When I considered what kind of brownie I'd want to serve at a Super Bowl party, I immediately started thinking about making a beer brownie with a salty-sweet kick. Mmm, mmm. This competitive, showoff of a recipe — with just 5 ingredients — is the result.
Enjoy the Big Game on Sunday. I hope you stuff your face and have a blast. Here's my play-by-play commentary on how to make this brownie: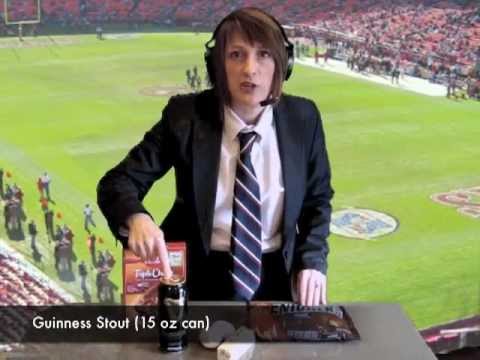 INGREDIENTS
1 box brownie mix (for this recipe, I used Betty Crocker Triple Chunk — yum)
1 can (14.9 ounces) of Guinness Stout
2 eggs
1/4 cup (half of a stick) of butter or margarine
5-6 Snickers bars, or 1 bag of miniatures
DIRECTIONS
Pour Guinness into a small saucepan and boil over medium heat until it thickens.
It may take about 10 minutes for your Guinness to thicken up. (If you're a coach who needs the game to go faster, mix 2 T cornstarch into 2 T of water, then add this to your boiling Guinness.) As delicious as this syrupy concoction LOOKS, it's not very sweet; in other words, don't lick the pan. But this syrup will add a dark, smoky undertone to your brownies. Honestly, you can hardly taste the Guinness unless you're really looking for it!
Melt butter or margarine in the microwave, about 20-25 seconds. In a large bowl, mix together the butter, eggs, Guinness, and brownie mix. Pour batter into greased pan and bake for 25-40 minutes, depending on the pan size. While brownies are baking, cut the Snickers into bite-sized pieces.
When brownies are done and the crust is still warm, use your fingers to push the Snickers pieces deep down into the crust.  Make sure each brownie will have several bites of Snickers. That's it. Wasn't that easy?
Cool, cut, and serve. Then hope that you don't need to call unsportsmanlike conduct on your guests as they fight to get the biggest one.