A little chocolatey. A little…uh… noggy. All wonderful. For a change of pace this year, put something in the cookie exchange that gets people talking: "Oh, that's a cute idea!" You won't believe how EASY it is. Just a few boxes and a few minutes of romping in the kitchen, then into the oven and done. Look at her; isn't she holi-dazzling?
INGREDIENTS
1 box Pillsbury Cheesecake Swirl brownie mix
Chocolate (dark) pouch from Pillsbury box
1/3 c oil
2 Tbsp water
1 egg
Cheesecake (light) pouch from Pillsbury box
2 boxes custard pudding mix (I used the 3.9 oz cook-n-serve box, but instant is fine too)
1 egg
1 tsp nutmeg (note: AllergicChild.com confirms that nutmeg is not a nut; it's a spice)
1/4 tsp cinnamon, if desired
2-4 Tbsp milk (or use egg nog if you have it on hand)
DIRECTIONS
So easy. Just wait until you see how fast you get back to wrapping gifts!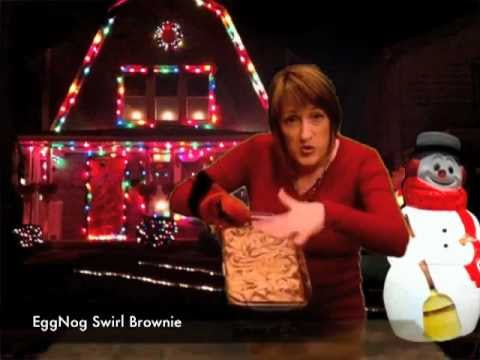 In one bowl, add the chocolate Pillsbury pouch, egg, oil, and water. Mix until smooth. Set bowl aside.
In another bowl, mix the white Pillsbury pouch with the 2 pudding boxes. Then add egg, nutmeg, cinnamon, and 2 Tbsp of milk or egg nog. Mix until smooth. Mix in another tablespoon or two of milk or nog, and mix until the eggnog batter is similar in consistency to the chocolate batter.
Pour the chocolate batter into a greased pan. I used an 11 x 7 inch pan (77 sq in) and ended up wishing for a slightly taller brownie — so, I suggest an 8 x 8 inch pan (64 sq in). One spoonful at a time, push the eggnog batter down into the chocolate batter, then artfully swirl the batters together with a knife.
Bake according to box, but add a few minutes to the baking time since the pudding mix adds to the amount of batter. When a toothpick in the center comes out almost clean, remove from oven. Cool and serve.
OPTIONAL BUT AWESOME: Make a glitzy little glaze to pour over top. Mix together 1 cup confectioners sugar, 1/2 tsp nutmeg, a pinch of cinnamon, and slowly add small amounts of either bourbon or rum or brandy until it makes a drizzly glaze. Enjoy!!!!
I think this would be awesome with vanilla ice cream and butterscotch topping. Just sayin'.