Live from Denise Leo's coconut studio: Watch the how-to video now!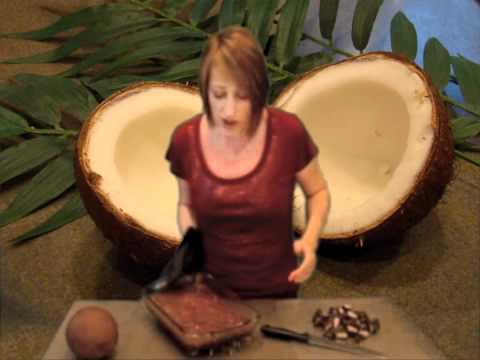 INGREDIENTS
Box brownie mix
Egg, oil, and water as box directs
1 c. macadamia nuts
Mounds coconut candy bars (5-6 full size bars or 15-20 miniatures)
DIRECTIONS
Prepare brownie batter as directed on the box and mix thoroughly. Gently mix in those beautiful macadamias.
Pour the whole shebang into a greased pan, and bake it as that bossy box tells you.
While brownies are baking, slice coconut candy bars into bite-sized pieces, minimizing the number of pieces that fall into your mouth. (Just *try* is all I'm asking.)
Right after removing the brownies from the oven, push all the Mounds pieces down into the warm crust of the brownies. Leave portions of the coconut showing for a funky, chunky effect that will cause your guests to drool uncontrollably.
It is simply giddy-licious to smoosh candy bars into a freshly baked pan of brownies. I will be adding, like, a zillion similar recipes to this site. Stay tuned, brownie lovers.